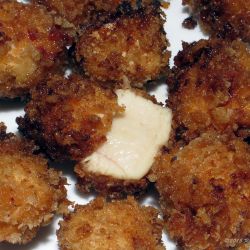 Chipotle Popcorn Chicken
December 15, 2014
Next Recipe
GO
Crispy Oven-Fried Chicken
Directions
In a bowl whisk together buttermilk, egg, cornstarch, salt, pepper and chipotle peppers.
Cut the chicken breasts into 1 inch pieces. Place the chicken in the batter and let it sit for at least a couple hours in the fridge.
Pour some panko breadcrumbs in a shallow plate.
Heat the oil in a large skillet.
Coat each piece of chicken with breadcrumbs, add more breadcrumbs as needed, and fry on both sides for 3 to 5 minutes until chicken is cooked through. Place on paper napkins to soak up some of the oil. Repeat with all chicken pieces. Only add a few pieces of chicken to the skillet at a time, so the chicken turns out crispy.
Ingredients
3 chicken breasts, boneless, skinless
½ cup Chipotle Pepers in Adobo Sauce, chopped finely
1 cup buttermilk
1 egg
2 tbsp cornstarch
salt and pepper to taste
Panko breadcrumbs
oil for frying
PREP 15 min
COOK 30 min
READY IN 45 min
YIELD 20
SERVINGS 8
DIFFICULTY

Intermediate
↥